Jack Daniels brings pop up to Wynwood this month!
Nov 16, 2016
Celebrating it's 150th birthday, the Jack Daniels Distillery in Lynchburg will touch down in Wynwood from November 13-19 with a unique pop-up for whiskey lovers.
Jack Daniel's is bringing a bit of Lynchburg to Miami by constructing a pop-up Jack Daniels store called the General Store at 2600 NW 2nd Ave. in Wynwood f
rom Sunday, November 13th through Saturday, November 19th.
The store will give consumers an inside look at how Jack Daniel's is crafted and will feature a variety of unique daily themes including Jack-infused treats, typography barrel art, musical guests, charcoal portraits, and more. The General Store will also display the actual safe that killed Jack Daniel, which is the first time the safe has ever left Lynchburg, Tennessee.Visit
JackDaniels.com
for full event details.
The pop-up store will be located at General Store at 2600 Northwest 2nd Avenue and is open Sunday-Tuesday and Thursday-Friday from noon to 8 p.m.; Wednesday and Saturday from noon to 6 p.m.
Jack Daniel's Brings Lynchburg to Miami
November 13th through November 19th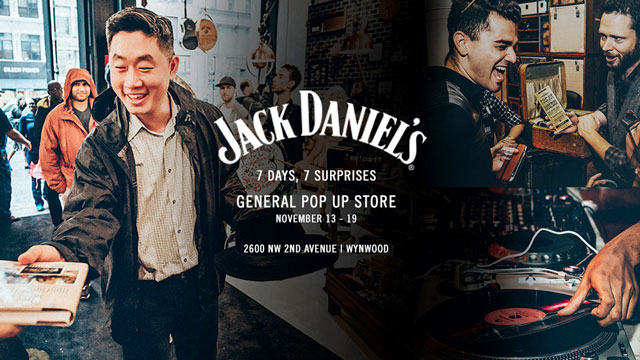 Experience 7 days of surprise experiences in celebration of Jack Daniel's 150th birthday! Starting Sunday, November 13th, Jack Daniel's sets up a general store in the heart of Wynwood with a unique daily lineup including special guests, live musical performances, gifts and more!

The General Store is inspired by original Lynchburg distillery established in 1866. Did you know this was the very first distillery established in the U.S. and Jack was the country's first Master Distiller!?
Listen to sets by all vinyl DJs, bite into Jack infused sweet eats or get a quick complimentary trim by a Junior & Hatter stylist.


tags:
wynwood
wynwoodpopup
jackdaniels
thewynwoodblog
wynwoodartsdistrict
funmiami
thingstodomiami