MIAMI HERALD: Wynwood Yard hosts cooking classes that teach healthy eating to youngsters
Mar 10, 2016
By Christian Portillacportilla@miamiherald.com
Mimi Chacin grew up in Venezuela where the family tradition was always getting together and cooking meals. She said it was that memory and desire to keep the tradition going that inspired her to teach others how to cook.Chacin started Skills Culinary & Kitchen in December after seeing a need to teach children and adults the essential life skill of making meals. Now, through her workshops, she gets to merge her passion for teaching with her love of cooking.


Every other Saturday she instructs kids ages 7 and up to make a wide variety of recipes that allow kids to learn specific skills, in hopes of expanding their culinary palate. The classes are hosted at The Wynwood Yard, a gastronomic collaborative outdoor venue with an emphasis on community, wholesome lifestyles and healthy eating.Della Heiman, owner of The Wynwood Yard, said the classes are in line with their goals such as improving food accessibility and helping people understand what to do with raw ingredients.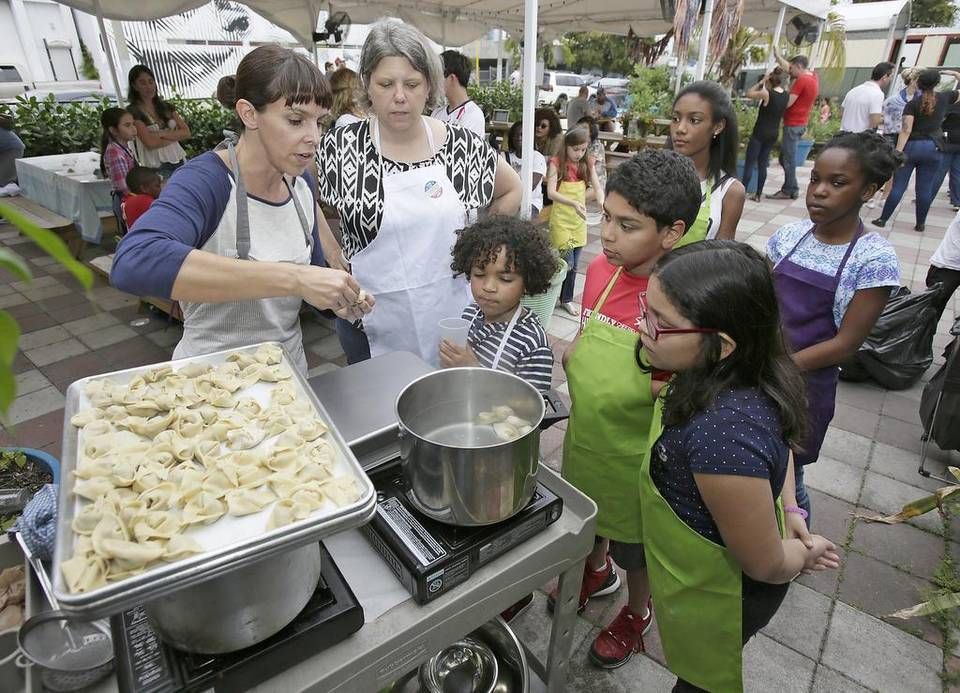 Before the cooking begins, the students are taken on a walking tour of the yard and the organic edible garden, installed by the Little River Cooperative, where they can pick vegetables and herbs to use in the recipe. Chacin, business partner Victoria Nieto and assistant Jeannie Necessary encourage the kids to touch and smell. It's crucial to Chacin that the kids make a farm to table connection but also walk away with techniques from their experience in the class."I think it's important for them to learn how to cook. There's so much that a child can gain from a cooking experience. Not only the life skills of knowing how to cook but being exposed to food, working in a team and learning real skills like chopping, peeling and slicing and putting something together they can be proud of, and they can share with their families right away," Chacin said.On Saturday, about 15 kids dressed in yellow and green aprons made vegetarian and meat dumplings with a cabbage slaw and a sesame soy sauce. The group was separated into teams and sent to three different stations: the dumpling table, the sauce stand and the chopping skills area where they learned the "bear claw method," a safe approach to chopping by tucking the fingertips under the knuckles to avoid a cut.
Claudette Vincent, a registered nurse whose 8-year-old son Mathew attended the class, said it's important for him to learn to cook to help him grow into an independent adult."I want him to have this experience beyond school and beyond the kitchen at home so he can interact with other kids and get some hands-on experience outside of the home area, also to get him exposed to simple things he can make at home. I want him to learn to make nutritious and healthy things for himself," Vincent said. After the dumplings and the salad were prepared the children sat down to enjoy the fruits of their labor. Parents are invited to taste and encouraged to engage with the children about their experience.Tiffany Krause, who was there with her son Kai Abel, 8, and his friend Jackson Kassewitz, 8, said this is her second time taking them to the classes.
"I found out about it on their Instagram, and I thought it was great: The whole concept, to see the garden and to take the food from there and make it themselves and enjoy what they create. They get to be out in this environment, and the experience is good for them," Krause said. The boys were excited to be at the class again."I like that we got to cook stuff and eat it. My favorite thing was shredding the carrots," Kai said."That was my favorite part too," Jackson said. "I'm used to shredding a lot; I sometimes shred at temple."Chacin also teaches cooking classes for adults individually and in group settings. She also extends her lessons after school and teaches at four different schools in Miami via Common Threads, a nonprofit nutrition and curriculum program that helps prevent childhood obesity and reverse the trend of generational non-cookers in low-income, urban communities across America. For Chacin, teaching children to create healthy relationships with food in and out of the classroom is her ultimate motivation. "I come from the culinary side and I spend so much time in the kitchen," Chacin said. "I love working with kids. I have patience with them and I love how they learn. I love how excited they get about it, especially with cooking. I have a lot of fun and I really enjoy it. I think it's important but I also have a personal connection with it."
If you go
What: Skills Culinary & Kitchen.Where: The Wynwood Yard, the Lots at 56, 64 and 70 NW 29th St., Miami.Cost: $20 per child.Next classes: 4 to 5:30 p.m. April 2, 16, 30.
Info: Email mimi@culinaryskillsmiami.com.
tags:
miamiherald
twy
skillsculinary&kitchen
kids
littlechefs
wynwood
wynwoodhappenings
wynwoodevents
culinaryskills
culinaryskillsmiami
thewynwoodyard
littlerivercooperative
healthyeating
healthykids
healthylifestyle